Everyone appreciates being able to save their business money and reduce unnecessary expenditure. One area of your business that you can focus on to quickly and easily save money is to reduce bank fees. Specifically, if you can avoid non-sterling transaction fees you'd typically get charged for your foreign currency payments.
What is a non-sterling transaction fee
In the UK, high-street banks typically charge 2.75% – 3% for processing payments on debit and credit cards when you transact in foreign currencies such as United States Dollars (USD). As with all banking charges, there are different fees for card expenditure vs foreign cash withdrawals, but if you're paying these high foreign currency fees and want to cut them down keep reading.
In business and in our personal lives, an ever-increasing number of products and services are priced as monthly subscriptions. Looking through your company's Profit and Loss account these subscriptions can quickly build up, especially for those businesses operating in specific industries.
Our team of business accountants are constantly looking at ways to help businesses improve their profitability, and we're often asked how to reduce additional bank charges.
Case Study – Digital Marketing Agency
Any digital marketing agency that offers Search Engine Optimisation (SEO) services will usually require a variety of software packages to help research, conduct and analyse campaigns:
Project management
Link analysis
Keyword research and monitoring
Site audits and crawlers
While the UK might have a good tech scene, a lot of the popular tools used by SEO and digital marketing agencies are built by companies headquartered outside the UK. Many of the popular tools like Ahrefs, Moz and SEMrush charge in USD rather than GBP.
Paying on a UK bank card in USD means high non-sterling transaction fees, and they can add up quickly and needlessly.
One of our digital agency clients has kindly allowed us to use a selection of their typical monthly subscriptions as an example:
| | | |
| --- | --- | --- |
| Billing Group | Item | Cost Monthly (USD) |
| Digital Marketing | Project Management Software | 49 |
| Digital Marketing | Gtmetrix | 50 |
| PPC | Unbounce Landing Page Software | 199 |
| PPC | Optmyzr | 499 |
| Domain Hosting | Flywheel (30x sites) | 290 |
| SEO | Ahrefs | 399 |
| SEO | SEMrush | 200 |
| SEO | Buzzstream | 99 |
On these subscriptions alone they are up over $1,700 per month.
Of course, as you've guessed by now, higher subscription fees means higher non-sterling fees.
Simplifying Your Reconciliations
Frustratingly, you'll also find that these non-sterling fees generate additional lines in your bank statements that will need reconciling in your accounting software. We're big advocates of Xero and the bank feed synchronisation which allows you to reconcile expenses easily. However, it adds administration to do this for the non-sterling fees on top of your software expenses.
While you can create rules to help speed up your bank reconciliations in a tool like Xero, you'll still need to 'accept' each subscription twice. This is because you'll need to reconcile the software fee converted into GBP, and the non-sterling fee, which will come through as separate lines.
You can set-up rules to help speed up this process, but once you've done it enough times you'll be looking for a way to save time as well as save your fees.
The client in our case study was using Metrobank for their purchases. Most bank charges are very close to the mid-market rate –  which is what you'd see if you Google the current foreign exchange rate. This does vary slightly for different card providers such as Mastercard, Visa and Amex.
However, in the case of Metrobank, they then add a 2.99% fee on any non-sterling purchase outside the EU.
| | |
| --- | --- |
| Monthly Software fees for above software | $1,785 |
| Annualised | $21,420 |
| Converted to GBP (@ 0.80 USD to GBP) | £17,173.14 |
| Metrobank Non-sterling Fees (@ 2.99%) | £513.48 |
Reducing Non-Sterling Fees by 88%
We've been paying close attention to companies like TransferWise, Stripe, Monzo and others that have been gaining traction in the finance sector.
Having personally used a TransferWise card outside the UK for the first time on my family holiday last year, I was astounded how simple it was to use. To get started I made a bank transfer to add euros to the debit car they supplied. Once abroad I was then able to use my card to pay in the local currency (this case Euros) for all foreign purchases instead of using my HSBC credit card. There was no cap on the transaction amount apart from the funds I had in my account.
If I needed to top up my travel money while on holiday, it was exceptionally easy. I just needed to make another bank transfer, which I could obviously do via my internet banking. To my surprise, I could also use Apple Pay on my phone to transfer the funds.
Like the business case example above, it allowed me to avoid costly currency conversion charges because with TransferWise you pay a much smaller fee:
Both TransferWise and HSBC use Mastercard, so there was no limitation where one payment would be accepted, and one wouldn't. I didn't have to pay a card fee each time I used my debit card.
I could even withdraw cash from an atm provider while away. Like saving on purchase fees, I didn't get charged any additional cash fees that are typically associated with getting money out on holiday. Just like with other card providers I could use any cash machine.
While this was great on a personal level, from a company perspective TransferWise didn't offer a business debit card at the time.
This all changed in November 2018. TransferWise emailed me to say that their business debit cards were now available to order, and that there was a direct integration into Xero! This would allow us to reconcile foreign transactions in the same way as other UK bank accounts.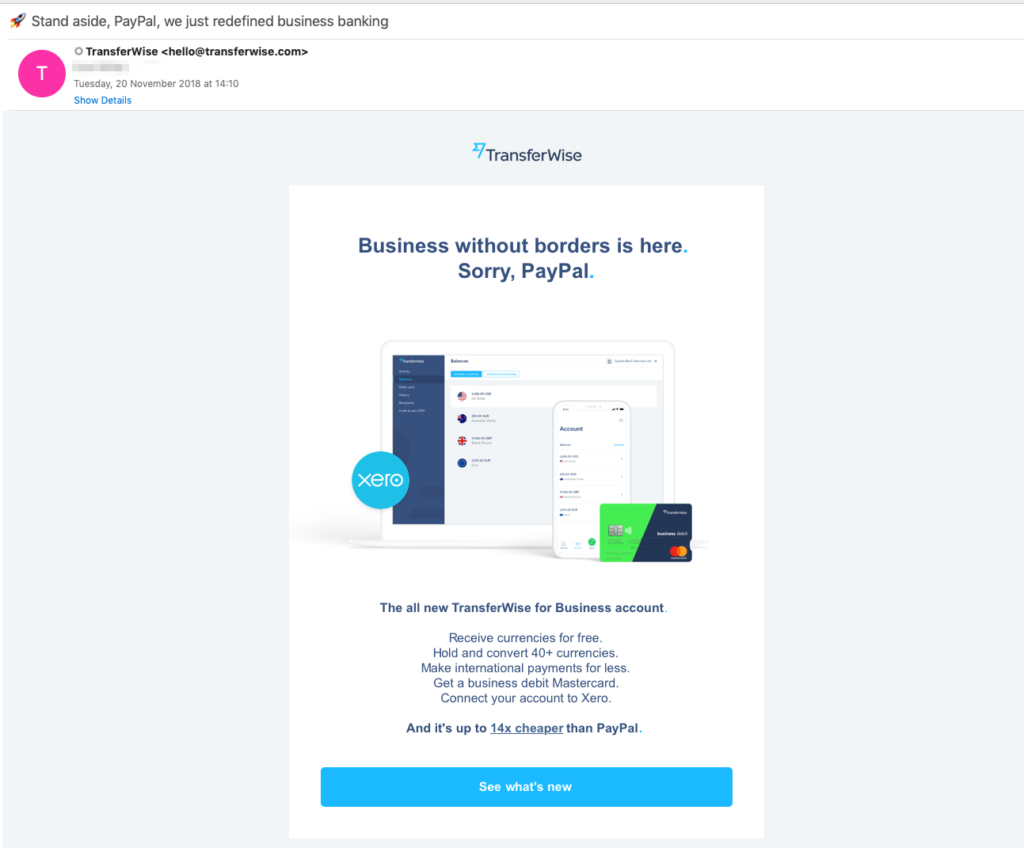 How to Integrate Transferwise with Xero
Setting up the integration is easy. Once you have activated your card in TransferWise, the process is as follows:
Click your account name top right
Select 'settings' from the dropdown
Click 'connected accounts' which will then reveal Xero
Click to connect which will then go through an authorisation with Xero
It will ask you which of your currency balances you want to sync and what you want to call the new account
Check back tomorrow
The next steps are then to update all your non-sterling subscriptions to your new TransferWise card. Once done the costs all come into Xero as previously, but into the new TransferWise account – with the added benefit of no fees on a non-sterling transaction for every single payment.
Credit Card vs Debit Card
One very important point to note is that the card you get with Transferwise is a Debit Card, not a Credit Card. For personal purchases, this means your not protected on purchases by the consumer credit act and you don't get any travel insurance.
From a business perspective, purchase protection doesn't apply to business credit cards. However, many suppliers offer incentives such as cashback, discounts and rewards, which you won't get on a debit card from the likes of Transferwise.
Summary
If your looking to easily reduce business costs, a quick win is to look at any non-sterling transactions your company is making – especially in light of the current value the pound affords when converted.
These savings aren't just limited to any software you pay for in foreign currency either. You can also use Transferwise to save money on your payroll for remote workers and freelancers who prefer to be paid in their local currency.
Ultimately there is a huge amount of money to be saved by making sure you're not paying over the odds with the standard fees charged by main high-street banks.
As explained in the article this also applied to personal purchases. You can save card charges typically associated with using your debit or credit card on holiday. You can also stop paying cash withdrawal fees if you stick to the limits.
For anyone wondering why we focused our article on Transferwise and didn't discuss other options, its simply because its the first borderless account we've experienced. We also like the fact that Transferwise are regulated by the Financial Conduct Authority (FCA).
That being said, there are a growing number of other foreign currency options and financial services out there for you to consider, all offering a variety of features and differing card fees. The competition is only likely to get more fierce so make pick a set-up that works well for your business.
If you'd like more help on ways to reduce your costs then please don't hesitate to get in touch.