Are you looking for a new accountant?
Do you need assistance with your personal tax affairs?
Are you starting a new business?
Testimonials

DS Burge & Co
5

Stars - Based on

33

User Reviews
Dealing with Kieran is always a pleasure, prompt, efficient and extremely professional. We would highly recommend.

DS Burge & Co chartered Accountants have always offered excellent personalised service and have been very helpful with all my queries no matter how varied they were. I have been using their services for years and can highly recommend this company.

DS Burge & co operate a great accounting service. They are efficient, informed and friendly. Highly recommended.

Kieran and the team are great,. I totally trust their advice and input and they are extremely efficient. I have recommended them and will continue to do so.

Very good value for money and always ready to help and resolving issues very quickly. I would strongly recommend them to anyone looking for an accountant. 5 Star rating from me.

It's great working with Kieran and the team. Fast and efficient and extremely knowledgable.

Last year I got a very scary letter from HMRC demanding I pay them £17k in lost taxes. Kieran from DS Burge & Co was extremely knowledgeable and helpful in getting that bill largely reduced and ensuring that HMRC don't make the same mistake again. Would highly recommend their services to anyone

Excellent service. Taxes and incorporation of my company sorted promptly.

Fantastic company, they have been doing my accounts for years and I can't recommend highly enough.

Excellent service, would not hesitate in recommending you to anyone, and have.

Had a great experience with DS Burge, and particularly Kieran. He made the process nice and easy and was a help throughout. Can't recommend highly enough

My experience has been excellent using your company I couldn't ask for any moreThank you

DS Burge have been invaluable in helping with my tax returns and planning, and forming a number of companies for me. The team are friendly, results focused and knowledgeable.

Very fast and friendly service.

Have worked with DS Burge & Co for the past few years and could not recommend Kieran and his team more highly, always professional and always responsive!

Having struggled to find an accountant who was competent using Xero, we have been delighted with the knowledge and assistance given by Kieran. He is always prompt to respond to any queries and we are very happy with the service provided.

We have been working with Kieran for coming up to a year now. From the outset we found the service to be highly professional and supportive. The company are quick to respond to enquiries and go out of their way to support us as a client. They have helped our new adminstrator get on top of her bookeeping, which has been invaluable.

We have used DS Budge & Co since we set up the company 11 years ago and I can honestly say that we wouldn't still be here if it hadn't been for their assistance over the years. They are not only first rate accountants but trusted, loyal advisors and friends – I could not recommend them more highly.

I've been using DS Burge for many years and they have always provided a great service. I use them for my personal finances, and for two businesses also. Very knowledgeable in all areas, and always available and helpful.

I started my own business at the beginning of the year, and I decided to use DS Burge as my accountants based on recommendations from a few friends who were long term customers.So far their levels of service and professionalism have been fantastic. They have helped guide me through all the hurdles I expected (and some I didn't).As you would expect you have a lot on your plate when you set-up from scratch, but they have always been on hand to help.

Have been using DS Burge & Co ever since I started having to do a tax return both personally and for a limited company. Always very detailed and quick responses to any queries and thorogh explanations. Great at ensuring tax payable is the most efficient it can be. Would highly recommend.

I started using DS Burge and Co following a recommendation from my brother. I have been with them now for 6 or 7 years now and I always find them to be extremely responsive and efficient. Kieran and Darius are extremely knowledgeable and up to date. I have recommended them to a number of friends who have started using them and then told me how good they. This reflects well on me but it has also confirmed my impression that they are a quality outfit.

Very efficient and easily accessible. Responds quickly to communication. I would recommend to others.

Very smooth process from start to finish. I was assisted with a complex matter which had been badly handled by my previous accountant and the resolution was quick under Mr Burge's stewardship. Highly recommend.

Prompt professional service.

I am delighted with the service I receive and the help I always get and the availability of Kieran and Yuko to assist me.I am extremely grateful that the fees have not rocketed up.I feel safe in their hands and a valued customer. I have only positive comments to give.

Efficient, personable and highly professional. Would highly recommend!

Professional and very helpful on all fronts.Great response to all enquiries.

Very pleased - professional and prompt service, with relevant points remembered and followed up a few months later. I would definitely recommend this firm. They act with integrity - something which is often lacking in many high street accountants these days (as I've discovered to my cost previously)

I have been with Burge Accountants for many years now, and have always found them extremely helpful in answering any questions I may have and in giving advice. I have a lot of trust in them and find them extremely professional.

Experienced, organised and knowledgable, I felt looked after and in safe hands

Excellent service from DS Burge and Co; very responsive and pragmatic and helpful approach. Extremely well priced service. My wife and I have used their services for a number of years and have always been extremely impressed.
DS Burge & Co
Our Chartered Accountants in Surbiton, Wimbledon & East Molesey can provide you with a complete range of accountancy services.
We can help private individuals and small to medium-sized businesses with all aspects of accounting and tax, from advice and planning to tax returns.
First established in Surrey in 1980, we have gained a wealth of experience over the past 40 years helping thousands of clients.
We pride ourselves on being able to offer each and every customer a friendly, flexible and professional service customised to their individual needs.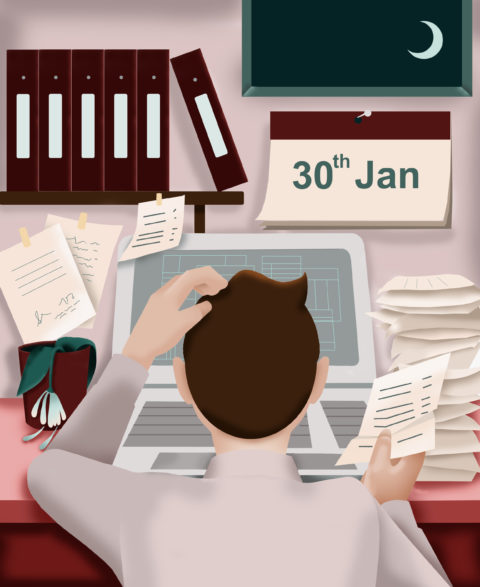 We offer the following services:
Self-Assessment Tax
Completing a self-assessment tax return is a time-consuming process, and can often be daunting.
Completing a self-assessment tax return is a time-consuming process, and can often be daunting.
Whether you are an individual or a partnership we can help with your tax calculations and online submissions to HMRC. Our team of qualified accountants can help complete this on your behalf, and we often find ways to help reduce our clients' tax liability.
More...
Corporation Tax
Preparation of company tax returns including tax calculations and online submissions to HMRC
Business Start-Up
We can advise your new business start-up on all aspects of accounting from tax structure, record keeping and statutory requirements.
We can advise your new business start-up on all aspects of accounting from tax structure, record keeping and statutory requirements – including company formation and your registration with HMRC.
Cash-flow is hugely important to any businesses, especially a new start-up. We will ensure your new company effectively plans and manages payment collection alongside expenses.
There will be a large variety of other critical business decisions you may face, and we can help evaluate the financial aspects. Whether you are looking to invest in new office space, or to grow your headcount.
There may be new tax savings opportunities that you might not know exist. We can help keep you informed and ensure you capitalise on any potential gains. Find out more about our small business accountants services.
More...
VAT Returns
If you're a small business owner, but your taxable turnover exceeds £83,000, you will be required to become VAT registered with HMRC.
If you're a small business owner, but your taxable turnover exceeds £83,000, you will be required to become VAT registered with HMRC.
There are a number of schemes which will be available to you, and we can help you understand which will be the most tax-efficient for your business. We can then help get you registered and advise moving forwards with tasks such as invoicing and VAT returns.
View our Small Business Accountants page to find out more how we can help with your company VAT returns.
More...
Payroll Services
Maintenance of payroll including all Real Time Information requirements and advice on payment of payroll taxes, employee benefits and national insurance.
Bookkeeping
Provision of a full bookkeeping service for clients using a simple and easily understood accounting package.
Company Secretarial Services
Filing of Annual Returns and other statutory forms to Companies House.
Raising Finance
Assistance obtaining funds from banks or other lenders including hire purchase or leasing.
Budgets, Business Plans and Forecasts
Provision of budgets, business plans and forecasts to help you start up, develop or expand your business.
HR Advice and Compliance
Advice around personnel and staffing matters for small businesses.